Product Overview
P/N: 020-1002-00 rev A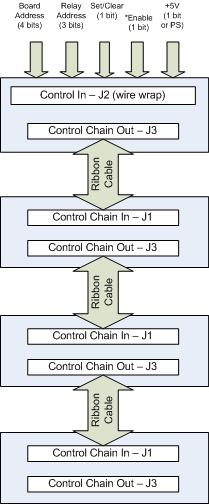 An increasing number of electronics products are being assembled in panels of 8 or more to minimize production cost. These products are typically tested with in-circuit tests (ICT) followed by power-on functional tests. Normally, ICT requires isolation of power and ground while measurements are being performed. Functional tests, including in-system programming (ISP), require board power to be applied. The Modular Relay Board (MRB) is designed to switch power onto each individual board and to disconnect sensitive signals during functional test.
Each MRB provides 8 double pole double throw (DPDT) relays. MRBs can be daisy-chained to provide up to 128 DPDT relays to switch 256 signals. The DPDT relays switch each power or signal pair concurrently. The latching relays enable the connections stay in place even when power is removed from the relay board or the UUT.
Each daisy-chain is controlled by 10 digital lines. An USB option is available to program the relays with no digital control lines required. Unused board address lines can be grounded to save 1-4 digital control lines.
USB Control Option
An USB controller can be used to replace the 10 digital control lines. The controller connects to the J1 connector on the first MRB. Power is provided via the USB port. There is no digital line required to control the relays. A Windows XP/ Windows 7 driver is included to allow the user to send relay command through command line.
Hardware Specifications
Model part number: 020-1002-00 rev A
Number of relays per board:8 DPDT Latching relays
Max number of relays in one chain: 128 DPDT relays (16 boards daisy-chained)
Max number of USB controlled chains: 1
Relay contact rating: 220VDC 250VAC 2.0 A
Control lines: VIH 3.15V min VIL 1.35V max
Power requirement: +4.0 to +5.5VDC, 30mA max
Relay actuation time: 10ms (the *Enable line need to be hold LOW for 10ms to set/clear relay)
Physical dimension: 1.6" x 6.4" (4.06 cm x 16.26 cm)
Modular Relay Board User Manual.
Modular Relay Board Mechanical Drawing(DXF)
Free ground shipping to continental USA.
Please contact us to order.
Unit Price: $345
Hardware Option:
USB Relay Controller Board (driver included)
Part Number: 020-1001-00 Rev A.1
Physical dimension: 1.6″ x 1.3″(4.06 cm x 3.30 cm)
Unit Price: $275